How to get
to us
Green, greener – green arrival! We would be happy if you make your contribution and travel sustainably. you will receive a welcome drink from us upon presentation of your ticket as proof of your climate-friendly journey by public transport!
Route planner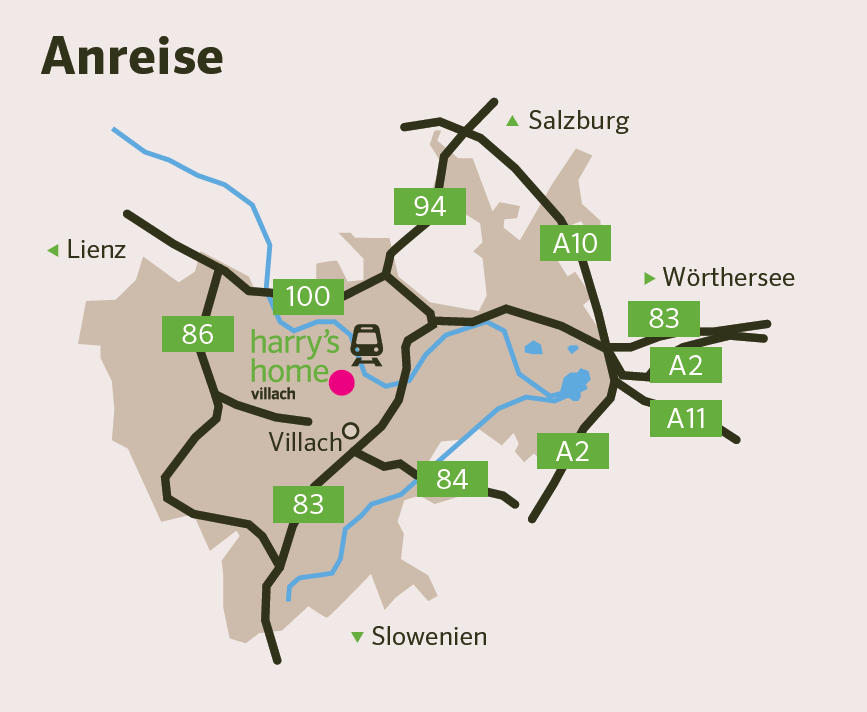 harry's home Villach
Bahnhofplatz 5
9500 Villach, Austria
Arrival by train
Harry's Home Villach is located at the beginning of the pedestrian zone in downtown Villach, north of the Drau, just a 2-minute walk from Villach's main train station.
Arrival by car
Coming from Salzburg A10: Villach West exit, continue on the B100 via Drautal Str., Vassacher Str., Steinwender Str. into Willroiderstrasse to Bahnhofplatz (follow the train station signs)
Coming from Vienna/Graz A2: Wernberg exit, continue on the B83 to the Ossiach line, turn right at the traffic lights after the railway underpass into Klagenfurther Str. continue to the Bahnhofplatz (follow the train station signs)
Coming from the south/Karawanken A11: To the Villach junction, then on the A2 towards Italy to the Villach Faaker See exit, turn right onto the B84 Maria Gailer Str. towards Zentrum/Bahnhof (follow the train station signs)
Coming from Italy on the A2: Take the Villach – Warmbad exit, then take the B83 Kärntner Str., which merges into the Ossiach line to the traffic lights/Klagenfurther Str. junction, turn left to the Bahnhofplatz (follow the train station signs)