Children need space, parents also need peace and quiet. Our solution: the large flat with three rooms. Parents' bedroom, children's bedroom and, right in the middle
a living-dining-kitchen-playroom for the whole family.
Cleaning discount
Get 5,- Euro discount per night if you want to waive the intermediate cleaning of the room.
Features
approx. 75 sqm
2 bedrooms with 2 beds 90 x 200cm - separate beds possible
separate living room and bedroom
separate living room and bedroom
double sofa bed
fully equipped kitchen with dining table
2 bathrooms with bath or shower/WC
walk-in wardrobe
large desk (table may vary in height)
2 flatscreen TVs, air conditioning
free WiFi
Big, bigger, harry's home.
At harry's home, it's not just the rooms that are big, but also the storage space. We offer plenty of space for your wardrobe, your sports equipment or simply for everything you bring with you.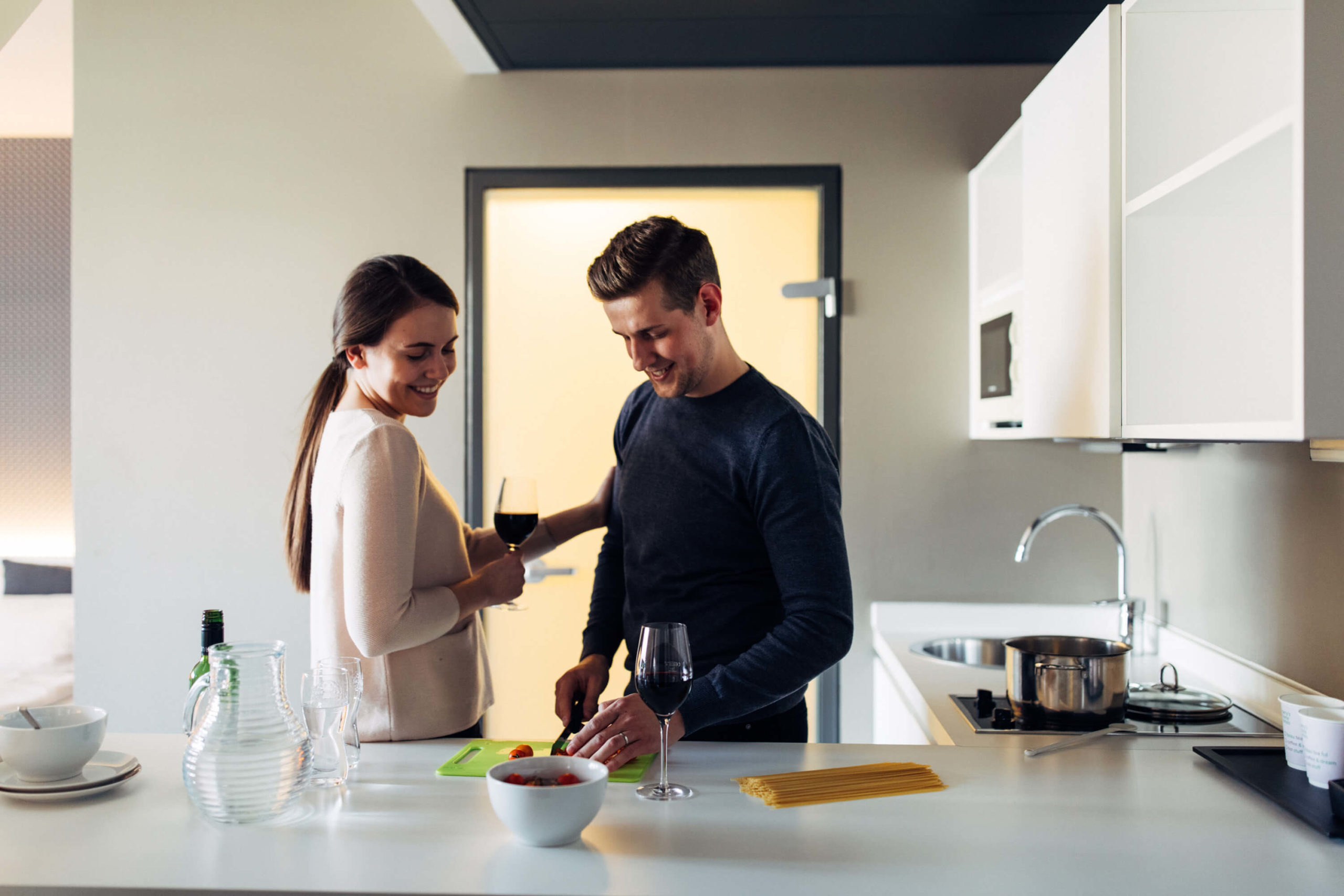 We are the hotel that really gets you cooking!
Whether alone or as a couple or with the whole family. Turn your city trip into a culinary voyage of discovery and save real money too!
Our insight: you feel more comfortable in large rooms!
This is a good place to live:
Bright, modern and cosy.
Because for us, a hotel room is more than just a place to stay. That's why our rooms have beautiful parquet floors and practical furnishings, large wardrobes and lots of little ideas that make life easier. For example, perfect sound insulation – so that your offspring can let off steam in peace without disturbing others.
How come we know so much about families?
Quite simple – harry's home was founded as a family business. By Harald "Harry" Ultsch, who runs hotels in the fifth generation with his wife Sonja and their three children Florian, Fabian and Valentina. And he does so with the whole family and incredible passion. Travelling to all parts of the world, the Ultsch family was able to gather a wide range of experiences and bring them into the hotel group. As employees in top hotels in European metropolises, the sons learned what it means to be there for the guest around the clock.