If you like to have a lot of space and feel at home while traveling, our two bedroom apartment is the right choice for you.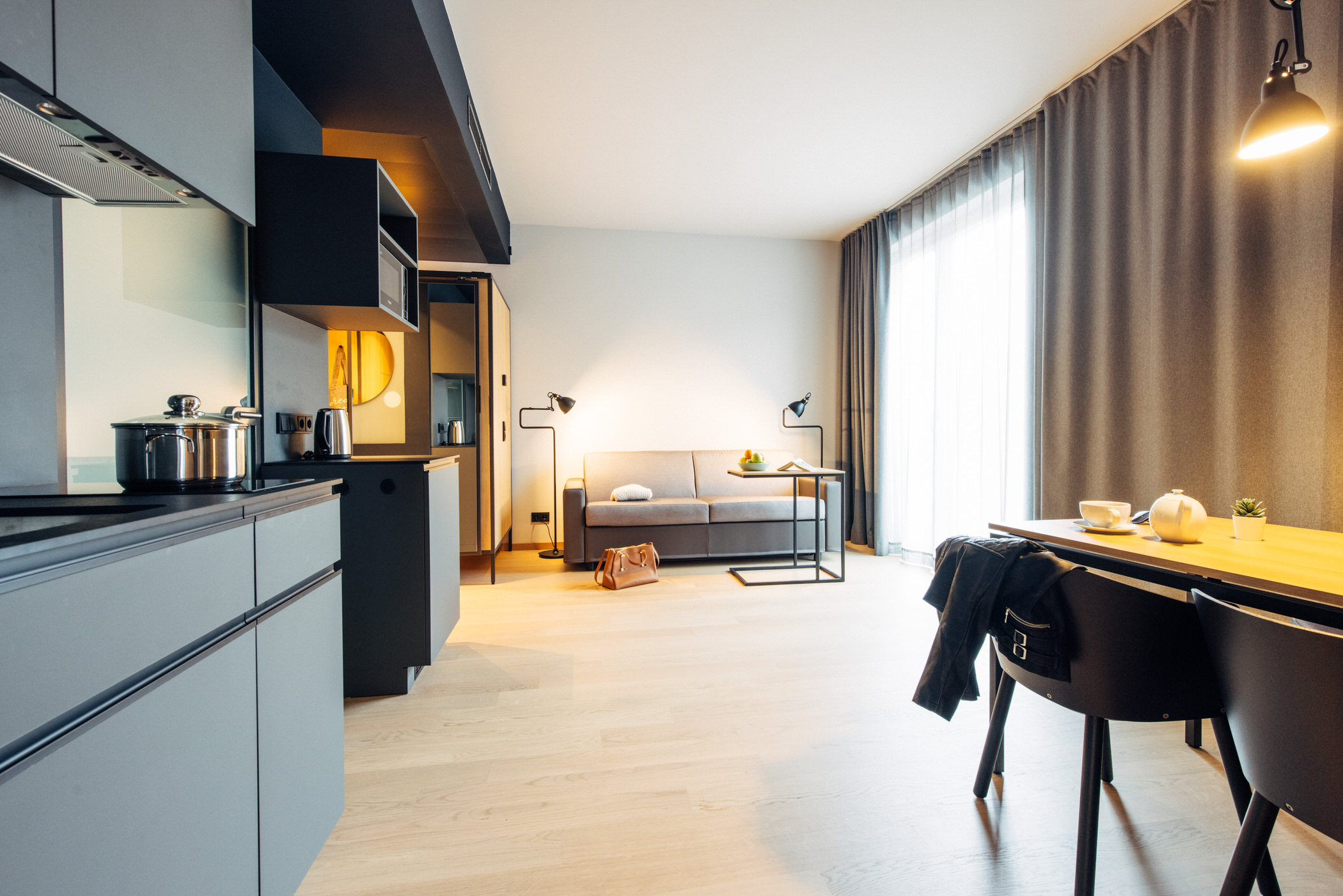 If you like to have lots of space and feel at home when travelling, our 2 bedroom apartment is the right choice for you. In the cosy bedroom, your comfortable double bed awaits you after a long day. Travelling with friends, work colleagues or simply like to have your bed to yourself?
No problem – our comfortable double beds can easily be separated into two single beds. If your companion snores or, unlike you, likes to do yoga at six in the morning, we have the right solution here too: we can easily add another double room with its own bathroom to your flat.
You don't want to miss out on your favourite dish or the perfect breakfast egg, just the way you like it, even when you're travelling? In your own fully equipped kitchenette and with a supermarket in the same area, you can enjoy complete independence and prepare your meals at any time of the day. A dining table invites you to have dinner and play games together, and the large couch offers plenty of space for movie nights on the flatscreen TV. For relaxed internet surfing, free WLAN is available throughout the entire harry's home.
Cleaning discount
Get 5,- Euro discount per night if you want to waive the intermediate cleaning of the room.
Ausstattung
approx. 70 m²
1 - 6 persons
double bed
living room with kitchen, dining table and large couch
extendable by a double room (with separable beds)
spacious wardrobe
armchairs
collapsible tables
shower and/or bathtub/WC
flat screen TV
ventilating system
free WiFi
Your hotel is like your home. You only pay for what you really need.
Bright, modern and cozy.
Because for us, a hotel room is more than just a place to spend the night. That's why our rooms have beautiful parquet floors and practical furnishings, large closets and lots of little ideas that make life easier. For example, perfect sound insulation – so that your offspring can let off steam in peace without disturbing others.
Where does it come from that we understand so much about families?
Quite simple – harry's home was founded as a family business. By Harald "Harry" Ultsch, who runs hotels in the fifth generation with his wife Sonja and their three children Florian, Fabian and Valentina. And with the whole family and incredible passion. Traveling to all parts of the world, the Ultsch family has been able to gather a wide variety of experiences and bring them to the hotel group. As employees in top hotels in European metropolises, the sons learned what it means to be there for the guest around the clock.